2 models
Filter by:
Movement type
Quartz (battery powered) (1)
Ships within
3-8 weeks (1)
All watches (1)
Sort by:
Popularity
Popularity
New arrivals
Rating
Most viewed
Discount
Price, low to high
Price, high to low
Name A-Z
Ladies watch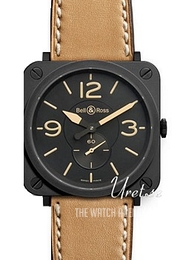 Pilot Watches - vintage watches
5-10 working days
Condition: Very good
Est. retail value € 4.550
€ 3.680

The triangular index marking sometimes found at the top of a pilot watch is used by pilots so that they can read the time quickly. Another common feature is GMT, which allows the pilot to check two time zones simultaneously. Pilot watches have a distinctive appearance. There have always been strong connections between the airline and the watch industry, naturally enough, as a watch is a vital instrument for a pilot. Classic pilot watches are manufactured by IWC (including Pilots and Spitfire) and Breitling (including Navitimer and Professional). We also offer cheaper pilot watches for sale from Citizen and Oris.